A home movie theater isn't necessary for a home, but it sure is fun to have one; especially if you enjoy having movie nights at home with family and friends.  You can turn any room in your home into a captivating home movie theater with a little effort and a lot of creativity.
Here are the top 4 Home Theater Decor Ideas: 
1. Choose a style theme to help set the tone.
First, decide on a theme.  We still see vintage vibe, with a touch of Hollywood glam, being the most popular.  Darker paint colors are ideal for home movie theaters because they set the tone and complement the intimate and dimly lit ambiance of this theme.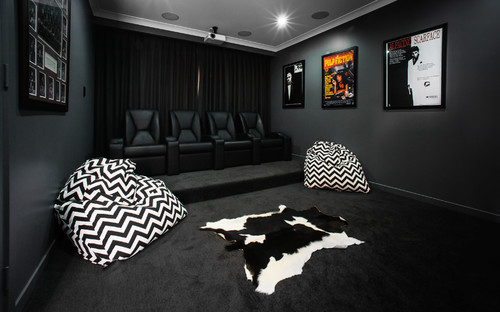 Credit: Photo by Tomas O'Malley Architect
Continuing with the dimly lit theme, lining the ceiling with miniature recessed lights that appear to be floating in the sky will make your home movie theater appear more romantic and cozy.  Because the lights are so small, you'll be able to leave them on while watching your favorite movies.  Decors with fiber optic lights and LED strips tracing the walls are also popular.  These elements will create a one-of-a-kind experience for visitors for your movie theater room.  Adding expensive sconces to your walls can also help you achieve the Hollywood glam look.
Credit: Photo from Blisslights
Even if your home movie theater room has windows, you can create a dark ambiance by using beautiful blackout curtains or shades.  This will keep the sun out while also adding a glitzy touch to your home movie theater.  You can also add drama to your movie night by hanging velvet drapes over your screen and making the reveal part of your movie ritual.
Credit: Photo from Lushes and Curtains
Another great movie room decor idea is a statement carpet.  Carpets are essential for any home movie theater because they not only add style and comfort, but they also serve as an excellent sound insulator.  Don't be afraid to use bold prints and colors if you want it to be the focal point of your movie theater room.
Credit: Photo from Flooring Inc.
2. Choose furniture that is both comfortable and stylish
Credit: Photo from 4seating.com
You don't need to maximize your home movie theater seats because intimate settings are best for home movie nights, so why not invest in the most comfortable sofas and recliners to relax in while watching your favorite movies?
Credit: Photo from Seatcraft
Another design tip is to add ottomans.  Ottomans are essential because they are functional and versatile.  If you need more home theater seats, you can turn any chair into a lounge chair by propping your feet on it, or you can turn it into comfortable stools.
Credit: Photo from Seatcraft
3. Choose the best audio and visual equipment to get the most out of your home movie theater
Credit: Photo from Samsung
One of the most significant decisions you'll have to make when creating your home movie theater is the audio and video equipment.
Before shopping for a system that meets your video equipment demands, prioritize the movies and other activities you want to undertake in your home theater. While a large TV is usually a good choice, a projector screen will give your home movie theater additional flexibility.
 Credit: Photo from Samsung
Excellent sound is also necessary for a fantastic home movie theater.  Although sound bars are the most practical option, a full home theater system will deliver surround sound and that makes you feel you are right in the middle of the action.  These systems are also compatible with other devices, Wi-Fi, and voice control, allowing you to have a seamless technology experience in your home theater.
Credit: Photo from Klipsch
4. Choose unique and engaging finishing touches
Take your time in choosing your accessories and adding finishing touches because it's the little details that make your home theater stand out.  Consider setting up a concession stand or a home bar because no movie night is complete without drinks and food.
You can also keep the Hollywood glam theme going with framed movie posters on the walls and a home theater sign with your family name on the front door.  Choose a high-quality personalized home theater sign that matches your movie room decor and look for unique elements like movie lights, stars, and gold cinema framing.  For a more modern look, go for a sign with a neutral background with basic fonts and graphics.
We offer high-quality customized home theater signs that would complement any home movie theater.  You can visit this link if you'd like to check out our complete Movie Sign Collection.
We hope you find our ideas helpful. But even with these suggestions, we want to encourage you to keep your personal style and preferences in mind when designing your home movie theater. The goal is to create not only a stylish movie room but also a relaxing and enjoyable space to enjoy with your family and friends.
Related Posts: